Youth Ministry Series Idea for February: Love, Dating and Sex
February is just around the corner and we all know what that means: Valentine's Day. For middle school and junior highers, it's a giggle fest. For high schoolers, it's an opportunity to get mushy gushy with that "special" someone. I have always been a proponent of optimizing this time to talk about the pressures, expectations and reality of love, dating and sex as a Christian.

Love, Sex & Dating Scripts


For many of us (especially youth pastors), we have the tendency to often assume that teenagers are raised in Christian homes with traditional values. If you are like me, it may have been drilled into your head by the time you were 14 that sex before marriage was a BIG no-no. However, there are some major problems with this scenario.
Unlike generations before, many teenagers today are not challenged by their parents with these views. Though the parents typically wish for their children to refrain from premarital sex, the emphasis is often placed upon the consequences rather than the positives. Here are some tips for an emotionally engaging series that is guaranteed to be requested year after year.
Get the parents involved. Send a letter before the series promoting it. Encourage the parents to talk with their children after each service and to use the opportunity to build better communications about Christian dating and morality.
Promote the series with posters, flash media, post cards, mass texts, and give aways.
Open each service with a love-related powerpoint game.
Have a skit each week. Make some of them funny. For our most serious night, I like to do a monologue of a guy or girl speaking to the opposite sex in the room as their future husband/wife. This person monologues a love letter pleading with their future spouse to save themselves. If it is done the right way, this can be VERY powerful. Here is one of my favorites: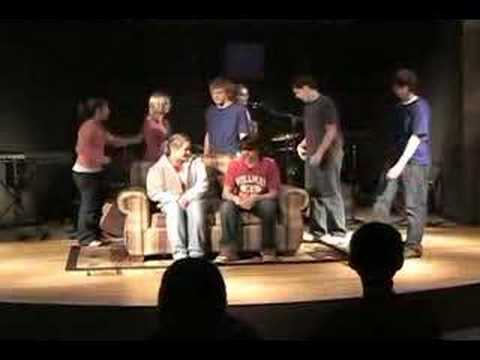 Focus on all of the issues at hand such as the world's perception of love, God's intentions, tempting situations, the consequences of sex emotionally, physically and spiritually, and the best way to handle future relationships.
Hold a powerful night in which kids can let go of some of their past mistakes and receive prayer from an adult leader.
Make one of your services a guys/girls only service. Guys need to focus on "guy" issues and treating girls with respect as daughters of God. Girls need to focus on modesty and self worth in God's eyes.
Make resources available to the kids to help them with their journey. One of my favorites (because it is super cheap and to the point) is Blaine Bartel's Little Black Book on Sex and Dating for teenagers.
Make sure parents understand that the youth pastor and the youth ministry are catalysts for conversation and a support system for parents, who are the most powerful influences in a child's life. As uncomfortable as it may be, parents should talk often and openly about love, dating and sex God's way. It should not be shunned as a bad thing, but instead promoted as a benefit of God's timing.
Tagged with: love and dating skit • skit ideas • youth drama • youth group skit
Filed under: Youth Group Ideas
Like this post? Subscribe to my RSS feed and get loads more!