The Live Curriculum available from Simply Youth Ministry is rapidly growing in popularity. At first glance, it looks like another youth curriculum program with a few bells and whistles. However, we've recently taken an in-depth look at the program to bring you a Live Curriculum review that will answer your questions and help you make a decision as to whether or not the program is right for your youth ministry.
About Live
First and foremost, we have to note that the Live Curriculum is not something you want to use for your regular group youth service. Instead, the program is designed to streamline either your small group or Sunday school lessons that are usually taught by your youth leaders. That being said, most successful youth ministries have some sort of small group gatherings on a regular basis, and we at Minister to Youth believe that those gatherings are vital to creating solid relationships and foundations in ministry.
Live works off of a 36-week year, assuming that many youth groups postpone small groups during the 12 weeks of summer and during the holidays. However, pastors can organize and edit the lessons as they see fit. The lessons are age-appropriate and are designed to build upon each other over time. Essentially, you can plan your lessons for up to 4 years, or 144 weeks in advance from anywhere, anytime. For an example, SYM's chart below provides an example of the lessons and the order you can teach them in:
New Product! Live Curriculum – Doug Fields' 4-Year Small Group Curriculum!
Easy Features
A purchase of Live comes with one to two years of access to the online tool where you set up what your leaders see. Each leader can log-in with permissions to view your customizable master calendar, view the lesson plan for the week, and view any notes you place in the leader's news feed. From the dashboard, you can also send out pre-written parent emails about the week's topic, and if you are a Simply TXT user, that program is fully integrated with the Live Curriculum as well, allowing you to effectively send out reminders to your leaders and students.
Portability
We have to say, this is our favorite feature about the Live Curriculum. Simply Youth Ministry recently released an incredibly cool iPhone and iPad app that finally brings youth ministry into today's technology. You can view entire lessons on your screen without carrying around your bulky laptop. Oh, and did we mention that this app is FREE? We've provided screen shots below. Oh, and if you aren't an iPhone or iPad owner, the Live Curriculum is soon to launch an Android app as well.
Time
The fine people over at Simply Youth Ministry do more than help youth pastors minister to students – they also minister to youth pastors. They have research that suggests that the connectivity and fluidity of the Live Curriculum will improve a youth pastor's effectiveness by more than 73 percent. And it makes sense too; having a 6-year road map of lessons gives pastors more time for what's important – connecting with students.
Customization
There is nothing worse than feeling tied down to a curriculum or series that you don't really want to teach or you don't feel is a good fit for your youth ministry. We like that the Live Curriculum offers both junior high and high school options to choose from, and that the lessons are editable to your discretion. For an example of how to edit a lesson, you can watch the following demonstration: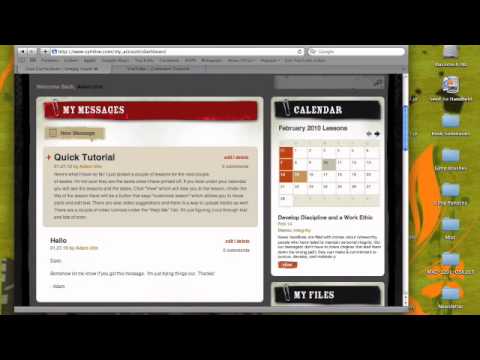 Conclusion
Our final conclusion of the Live Curriculum is very positive. Though we can think of a few things to improve upon (for example, we think leaders should have access to the online tool for the length of their Live Curriculum usage), we found few things to deter us from recommending the program to youth pastors. We even consider the $249 and $499 prices to be quite modest considering what's included…all of the organization and full lesson plans come out to less than $3.50 per lesson. To us, $3.50 is worth about 7 minutes of our time on a good day, so unless you find it easy to write a quality lesson plan and organize it for your leaders in 7 minutes or less, chances are it's a good value for you too. And better yet, you don't have to put together a small group lesson for 2 to 4 years.
To purchase Live Curriculum, or try it for FREE, choose which version you want to learn more about below: